Scott is frequently invited to talk with groups large and small, giving keynotes or serving as a panelist. He speaks about a range of topics related to collaboration, strategy, and organizational and team performance. Scott's early education and experience in theater gives him a firm foundation for communicating with audiences in ways that are engaging, informative, and entertaining. If you are interested in learning more about how Scott might add value to an event you are planning, please connect with us.
The following is a representative list of some of Scott's invited speaking engagements: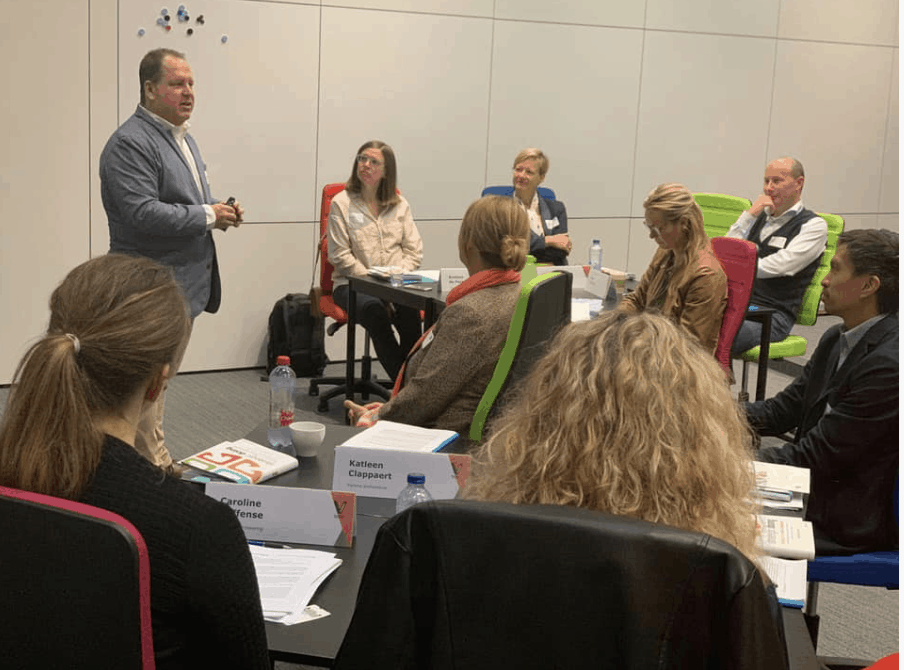 Strengthening U.S.-China Relations through a Business Emersion Strategy. George H. W. Bush Foundation for U.S.-China Relations. Houston, Texas.
Agile Leadership in Research Development

. Florida Research Development Association, Orlando.

Leading and Delivering Strategic Collaboration

. Solent University. Southampton, UK.

Designing & Guiding University Research with Strategic Doing.

Florida Atlantic University. Boca Raton.

An Agile Approach to Strategy Development and Strategic Execution

. Agile Business Conference 2019. London.

An Introduction to the Ten Skills of Agile Leadership.

Vlerick Business School, Brussels, Belgium.

Strategic Doing for Faith Communities.

Presbytery of Wabash Valley. Rochester, Indiana.

Designing and Guiding Complex Collaboration.

Utrecht, The Netherlands.

Strategic Agility in the Pharmaceutical Industry.

Brede, The Netherlands.

Prospection: Moving toward Change.

Invited TEDx Speaker at the Wilson Park TEDx event in Florence, Alabama.

Strategic Doing: Belgium.

Presented an overview of the Strategic Doing discipline to corporate leaders in Anthrop. Belgium.

From Comprehensive Planning to Strategic Doing.

Invited speaker at the National Planning Conference of the American Planning Association in New Orleans, LA.

The Visual Language of Ecosystems: Making the Invisible Visible for Universities and their Partners.

Invited speaker at the annual conference of the University Economic Development Association. Milwaukee, WI.

Strategic Doing in the Classroom: Teaching Students the Deep Skills of Collaboration.

Open: Annual Gathering for Practitioners of Technology Entrepreneurship in Higher Education. Portland, OR.

Accelerating Innovation in Northwest Indiana's Defense and Industry.

Northwest Indiana Defense Industry Association Annual Mega Conference. Fort Wayne, Indiana.

After the Quakes: Transforming the Christchurch Economy

. Christchurch, New Zealand

Creating an Agile Strategy for Diversifying the Valdez Economy.

University of Alaska Symposium on Economic Development, Valdez, Alaska

Transforming of Undergraduate Engineering Education Experience.

Stanford Pathways to Innovation Program, Phoenix, AZ.

Designing & Guiding in Transdisciplinary Research Collaborations to Address Grand Challenges.

Indiana University Integrated Program in the Environment. Bloomington, IN.

Using Strategic Doing to Design Workforce Strategies for British Columbia.

Selkirk College Conference on Workforce Development. Nelson, BC.

Economic Resiliency Strategies in British Columbia.

British Columbia Economic Development Association. Nelson, BC..

Designing and Guiding a Regional Food System in the Crestin Valley.

Fields Forward Annual Conference, Creston, BC.

Strategic Doing: Deeper Engagement of Business Schools in the Communities & Regions They Serve.

Annual Conference of the Society of Business, Industry, & Economics. Destin, FL.

Strategic Doing: Creating a More Agile, Responsive Workforce Agency.

Department of Opportunity and Employment Services, Washington, DC.

Effective Strategy Making in Local and Regional Development.

Fraunhofer IAO Research and Development Management Conference, Stuttgart, Germany.

Integrating Entrepreneurship into Undergraduate Engineering Curriculum.

Stanford University & National Science Foundation Workshop, Phoenix, AZ.

Building Collaborative Capacity for Policy Change.

Rural Policy Leadership Institute, Dallas, TX.

Economic Development Strategy for Rural Australia.

University of Southern Queensland, Hervey Bay, Australia.

Rural Nevada: Growing Economies, Building Business, Changing the World.

Rural Nevada Leadership Summit. Reno, NV.

The Research University as an Economic Development Partner.

Economic Development for Front-Line Professionals, Ball State University, Indianapolis, IN.

Universities as Network Weavers for Economic Development.

National Outreach Scholarship Conference, East Lansing, MI.

Incubators and Accelerators as Hubs for Entrepreneurship & Innovation.

International Economic Development Council. Indianapolis, IN.

A Strategy for Regional Transformation in the Central Indiana Economy.

Brookings Institution Auto Communities Working Group. Washington, DC.

From Rustbelt Holdover to Innovation Stronghold: Continued Transformation of the Central Indiana Economy.

White House Summit on Auto Communities. Washington, DC.