A Course for Undergrads: The Science and Practice of Complex Collaboration
About the Course
SPRING 2020 | TECH 39900 CRN15802| ENGR 39600 CRN15813
Want to improve how your groups and teams work together? Want to showcase to your future employers a valuable set of skills? If so, this course is for you. This course is unique. Nothing quite like it is offered at any other university. The Purdue Polytechnic Institute is at the forefront in this emerging discipline of teaching and research. You'll note that the course is offered as both a Polytechnic course (TECH) and an Engineering course (ENGR). It is designed, however, for students from all across the Purdue campus, from any discipline! In fact, students from nearly all of Purdue's Colleges have taken this course.
In this one-credit, online course you will gain insights into how to apply the 10 Rules of Complex Collaboration and the science behind why they work. You will learn how to guide a team to address complex challenges.
This course content is based on Strategic Doing, a proven discipline incubated at the Purdue Agile Strategy Lab over the last several years. These same tools and insights have been taught to industry, government, nonprofit, and higher education leaders in over 46 states and eight different countries.
What Do Students Say About the Course?
After completion of the course The Science and Practice of Collaboration I felt empowered and informed to better serve on a team…The book, Strategic Doing: Ten Skills for Agile Leadership, is like the gospel to me, since I began to use the skills to revamp a program that I coordinate…If you desire a transformative learning experience, enroll in this course and enjoy the journey on which the book takes you.

Adegoke A. | College of Education
If I had to register for only one course at Purdue, it would definitely be The Science and Practice of Complex Collaboration…This is the course that has impacted me the most as a student at Purdue. If you really want to know how to effectively lead teams to tackle complex problems, then this is the course for you, and Strategic Doing: Ten Skills for Agile Leadership is the book you need!

Ikenna O.| Agricultural & Biological Engineering
You can immediately put into practice the concepts you will learn in this course. When I took over a project from someone who left my company I was able to use some of these principles to jumpstart the project. In two weeks, the project team made more progress than they had in the previous two months.

Jon M. | Krannert School of Management, Class of 2018
Human Resources Operations Analyst, Lockheed Martin
By quantifying the practices that make teams effective, The Science & Practice of Complex Collaboration equipped me with the tools I need to succeed in any team environment. Practicing linking and leveraging my assets at my summer internship enabled me to join a more challenging project that aligned with my passions. I highly recommend taking this class and reading the Strategic Doing: Ten Skills for Agile Leadership; both are invaluable for leading impactful teams.

Erin M. | School of Electrical and Computer Engineering
The Strategic Doing approach was one of the most valuable lessons I've learned during my time at Purdue. It equipped me with a solid framework for working in teams positioned to solve and manage complex challenges. I would strongly recommend; it will serve as the cornerstone of your teams' success and productivity.

Andrew S.| Purdue Polytechnic
By approaching collaboration from both a theoretical and a practical way, The Science & Practice of Complex Collaboration provides me with the right set of skills I require in an ever-changing world. Teamwork and collaboration is necessary in any organization, and through mastering the skills from Strategic Doing: Ten Skills for Agile Leadership, I can perform better in a team, and I highly recommend this class for anyone who wishes to further their skills in any group environment.

Seanan L.| Mechanical Engineering
I enjoy learning new things and for me the best way to learn is to have fun while learning. That's exactly what The Science and Practice of Complex Collaboration offers! None of the courses I have taken so far offered that as much as this course…This course has taught me so many skills. It has also changed my perspective of successful collaborations, and now I can refer back to those skills in the future for the success of different teams.

Faiza S. | College of Pharmacy
While taking The Science and Practice of Complex Collaboration I implemented the course's concepts into a personal project of mine, one which has since seen significant growth within my team's engagement with not only their work but each other.

Cyan R. | Purdue Polytechnic
100% of Purdue students said that following the 10 Rules help their groups and teams do better work
96% of students respond that the course contributes significantly to their professional growth.
The course is designed for social learning so you'll be interacting with and learning from other students from lots of different Purdue colleges and departments. A lead instructor and mentors from a wide variety of industries and backgrounds will provide you a truly engaging learning experience. The course is delivered asynchronously which means you can engage with the course in a way that works with your schedule from where ever you happen to be.
The Skills Learned are Valued by Industry
The convergence of the physical and digital worlds…presents unprecedented opportunity for the creation of transformational value…For organizations to take full advantage of the opportunities this convergence presents, they will need leaders with the skills and insights taught in this course. The Science & Practice of Complex Collaboration would be a valuable course for any student hoping to help their companies and organizations chart a pathway forward.

Donald Cooper, Vice President
PTC Global Rockwell Alliance GTM
Applying deep underpinnings in social science research, lean/agile experimentation, and refinement through rigorous practice, The skills and insights taught in this course provide a framework to define and execute strategy for our time. This is for any student who hopes to tackle 'big hairy audacious" problems with effective, complex collaboration. Amazing and exciting learning that unlocks our human potential to grow and prosper!

Patricia Sheehan, Agile Transformation Lead and Coach
AstraZeneca Agile Centre of Excellence
As someone who leads a complex organization, I am always looking for new approaches to how I work. Learning to be proactive and truly collaborative is what you can gain from this course. These skills are not just for the workplace but can easily be applied to all areas of life that involve people coming together for a common goal. These are simple and well-supported skills that anyone can employ in their work and life to make a tangible difference.

Stephen Jennings, Senior Vice President & Executive Director
Rady Children's Hospital, Executive Director & Rady Children's Hospital Foundation
I've been fortunate to have success in my career but sometimes struggled to describe how I achieved that success. I was attracted to the content in this course because it provided a structure to which I could look back and chart my successes…I encourage others to learn these principles and start applying them right away. It will take patience, practice, and persistence; but as you develop these experiences you will be amazed by your own personal growth and the growth around you.

Brad Beach, Senior Project Engineer
Evonik Corporation
Course Goals and Learning Objectives
By completing this course, you will be able to:
Articulate what collaboration is and how it differs from teamwork.
Demonstrate an understanding that collaboration is especially important in addressing complex technical and social challenges.
Implement the 10 Rules of Complex Collaboration.
Explain the basis for the 10 Rules of Complex Collaboration and why these rules work.
Here' some Information About the Textbook & Instructor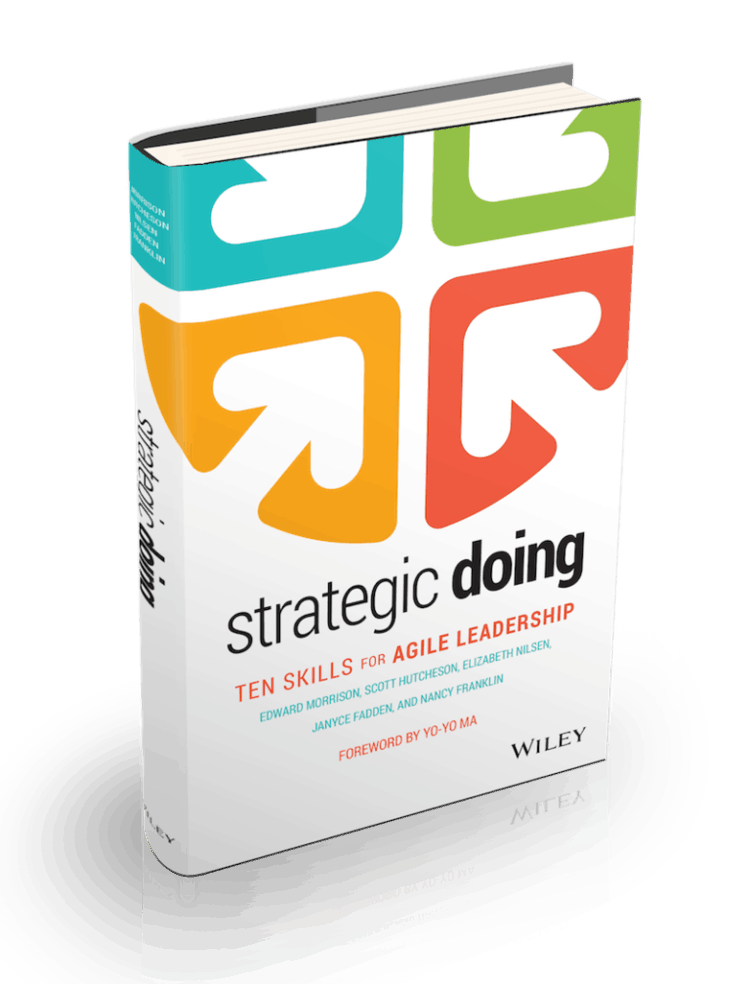 The textbook for this course is Strategic Doing: Ten Skills for Agile Leadership, a #1 New Release on Amazon in six different categories: Business Management, Strategic Business Management, Strategic Business Planning, Systems & Planning, Strategy & Competition, and Project Management.
Scott Hutcheson, PhD is the designer and lead instructor for this course. Scott is one of the book's so-author and a faculty member in the School of Engineering Technology in the Purdue Polytechnic Institute.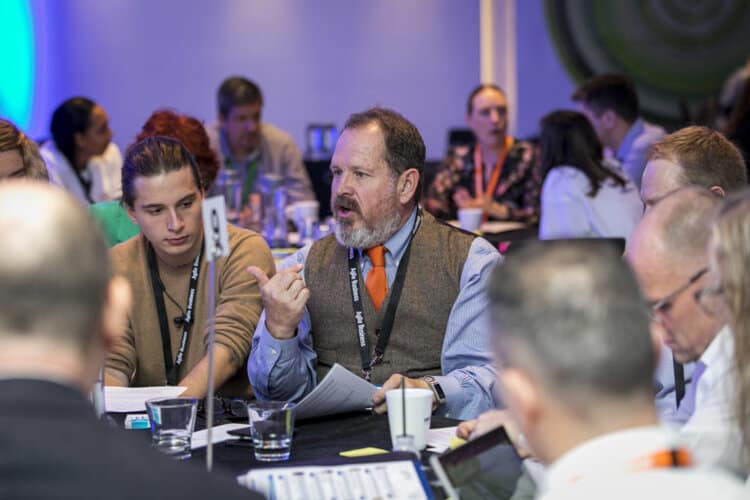 Scott has extensive experience outside the classroom, working with over 500 companies and organizations from industry, the public sector, higher education, and NGOs from across the U.S. and internationally. He has advised the White House, Department of Commerce, National Science Foundation, USDA, and other federal agencies in the design and execution of strategies to help manage complex grand challenges related to economic growth, innovation, and public health.
He teaches undergraduate courses for Purdue University's Purdue Polytechnic Institute and in the Purdue Graduate School. He often serves as a visiting faculty member at other universities, both in the U.S. and abroad. Scott designs and delivers courses and learning experiences that have a global reach. He's taught thousands of learners from over 140 countries. You can learn more about Dr. Hutcheson here.
Honors Contracting: This course is available as an Honors Contract Course for those interested. An honors project for this course contributes to the Purdue Honors College Leadership Development pillar. In general, an honors contract allows a student to go beyond the material of the regular course to produce more sophisticated work. For this course, a student interested in an Honors Contract can choose one of the 10 Rules of Complex Collaboration and develop an annotated bibliography that explores some of the scholarly evidence that supports that rule.
Additional Information: You can review a copy of the course syllabus here.
Interested, but not from Purdue? If you have found your way here from another university and are interested in learning more about how you might make this course available to your students, we would love to talk with you. Connect with us here.